141 S. Vine Ave, Park Ridge, IL 60068
Catering / Family Specials
If your family is like ours, you've got to be prepared for a few unexpected drop-ins. That's why we've put together a few options that can save the day and save you money! Requires advance order.
SALADS
Sonny's House: Half Pan 25.00 | Full Pan 50.00
Pasta Salad: Half Pan 35.00 | Full Pan 70.00
Chop Salad: Half Pan 35.00 | Full Pan 70.00
HOMEMADE BEEF
Thin sliced beef w/ juice on the side: 12/lbs (min order 3 lbs)
1 lb makes 4 x 6″ or 8 x 3″ sandwiches
(Fresh Bread & Peppers Sold Separately)
PASTA PANS
For serious pasta, Sonny's pans will do the trick! Choose either Rigatonni or Linguini and your favorite sauce (Meat or Marinarra).
Half Pan 30.00 | Full Pan Serves 6-7 people. 60.00
SONNY'S INSTANT PARTY
If all else fails, this should really do it. One large thin crust pizza with any four ingredients, one large Pasta Bowl and salad for all!
Serves 4-5 people. 35.00
TRIPLE PLAY PIZZA DEAL
THREE large cheese pizzas: THIN 33.95 | PAN 37.95 | NEW YORK 37.95
THREE large two-ingredient pizzas: THIN 38.95 | PAN 42.95 | NEW YORK 42.95
THREE large four-ingredient pizzas: THIN 43.95 | PAN 47.95 | NEW YORK 47.95
Our fresh crisp salads are tossed with a delicious combination of mixed greens, fresh tomato wedges, black olives, red onion and pepperoncini. Each is packaged fresh and ready to roll!! Your choice of two sizes comes complete with your favorite dressing, fresh bread and butter.
Dressings: Bleu Cheese, Creamy Garlic, Thousand Island, French & Sonny's House Italian.
SONNY'S HOUSE
Fresh simple and delicious. Great for a light treat or as the perfect addition to any order.
Sm 6.50 | Lg 8.50
TOMATO AND ONION
Sliced wedges of fresh tomato and crisp white onion drizzled with our herb vinaigrette.
Sm 7.25 | Lg 8.50
PASTA SALAD
Each day we enjoy making special pasta salads fresh in our kitchen. Ask what we've whipped up today!
Sm 7.25 | Lg 8.50
CHOPPED SALAD
Crispy chopped lettuce, tomato, onion, red cabbage, garbanzo beans, blue cheese, pasta, chicken & bacon.
Sm 7.50 | Lg 9.50
Like most everything we serve at Sonny's, we won't settle for anything but the best. That's why each day we create from scratch a special soup or two just to keep things interesting. Of course, we'll always have our homemade Minestrone on hand! Heartily served with a traditional side of fresh bread.
Sm 4.95 | Lg 8.00
In the spirit of the traditional Italian family gathering, we serve our pasta as Mama would with either Meat or Marinara sauce. Both are complete with our fresh bread.
For something special, add one of our house specialties:
– Homemade Meatball: 4.00   – Homemade Sausage: 3.50
RIGATONI
A short tubular pasta, straight cut and served with your choice of sauce. Sm 7.50 | Lg 10.95
LINGUINI
A long flat pasta perfect for fork twirling. Sm 7.50 | Lg 10.95
CAVATELLI
Our hearty homemade Cavatelli pasta has a bit of "twist" to fit. Sm 8.50 | Lg 11.95
GNOCCHI
Ok, so it's not really a pasta but we've carried our family recipe for these potato dumplings from the Old Country. A real Italian treat! Sm 9.50 | Lg 12.95
RAVIOLI
No mistake! Our jumbo handmade Raviolis certainly don't come from a clan. These babies are stuffed plumb with cheese, meat or vegetables. Sm 8.50 | Lg 11.95
Sonny's sandwiches include sweet or hot peppers.
ITALIAN BEEF
Hot roasted slices of Italian beef piled high on a french roll. 6.95
ITALIAN SAUSAGE
A long-time favorite, our jumbo seasoned sausage link is sure to hit the spot. 5.95
COMBO
We know it's hard to decide so why not have both! 7.95
HOMEMADE MEATBALL
A sandwich with two of Mama's daily- made fresh meatballs in our homemade gravy! 6.95
SUBMARINE
Chilled ham, Mortadella, Genoa Salami, Cappacolo, Provolone, shredded lettuce, tomato slices and marinate dressing on French bread. 7.50
Each and every day, we offer a special dish from Mama's best recipes. Just ask us what fresh-made special is on the menu today!
We top our homemade pizzas with only the freshest ingredients prepared in our own kitchen in order to provide you with the tastiest, most uncompromising pie around!
INGREDIENTS
Artichokes – Anchovies – Sliced Beef – Fresh Broccoli – Sliced Fresh – Garlic
Genoa Salami – Imported Ham – Homemade Meatballs – Fresh Mushrooms – Black Olives
Green Olives – Sliced Onion – Roasted Green Pepper – Sliced Pepperoni – Provolone Cheese
Ricotta Cheese – Seasoned Sausage – Sauteed Spinach – Fresh Tomatoes – Zuchinni
EACH INGREDIENT 2.50 to 3.50
THIN CRUST
Our Homemade pizza dough rolled thin & baked to a light delicate crisp.
12" 12.95 | 14" 14.95 | 16" 16.95
DEEP DISH PAN
For those with a hearty appetite and a sense of Chicago tradition!!
12" 14.95 | 14" 16.95 | 16" 18.95
NEW YORK STYLE
We wouldn't have brought our special recipe into these parts if it wasn't worth it. A medium rise Pie baked with crushed plum tomato sauce and toppings to please.
12" 14.95 | 14" 16.95 | 16" 18.95
SONNY'S SPECIAL
For those of you who can't decide, we've taken the guess-work out of choosing & combined our most popular assortment of toppings. Seasoned Sausage, Fresh Mushrooms, Roasted Green Pepper & Sliced Onion. All we ask is that you choose your favorite crust: Thin, Pan or New York Style.
12" 18.95 | 14" 20.95 | 16" 22.95
FRESH VEGGIE GARDEN
Of course, you don't have to be a vegetarian to love this one but dedicated meat-lovers should beware! Take your choice of any four vegetables from our "garden" of ingredients & we'll plant them on the crust of your choice: Thin, Pan or New York Style.
12" 18.95 | 14" 20.95 | 16" 22.95
Coke, Diet Coke, Sprit 1.75 | Bottled Water (still) 1.75 | San Pellegrino 2.25
ALL PRICING AND AVAILABILITY SUBJECT TO CHANGE WITHOUT NOTICE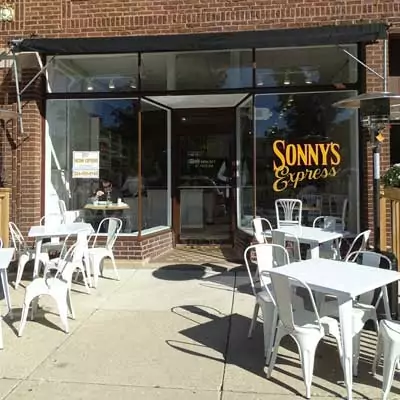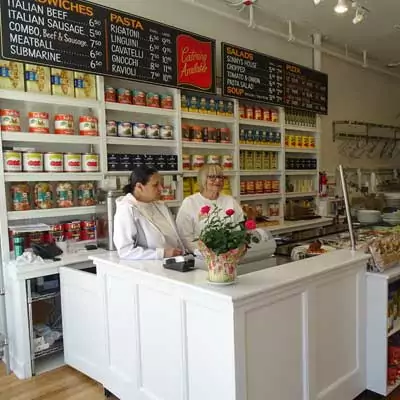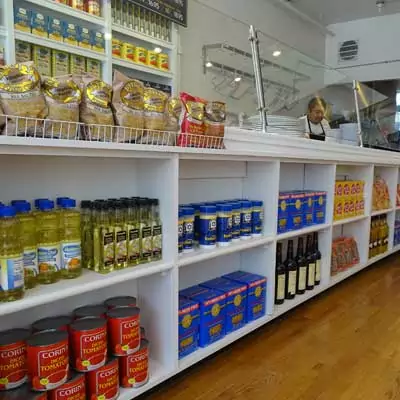 Sonny's Express: 141 S. Vine Avenue, Park Ridge, Illinois 60068
Address:
141 S. Vine Ave
Park Ridge, IL 60068
Hours:
Monday – Saturday
11am to 8:00pm
Sunday Closed